---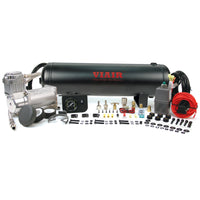 MEDIUM DUTY ONBOARD AIR SYSTEM (PN 10003  )

150 PSI / 1.59 CFM



DESCRIPTION
Inflates tires up to 33''. A 325C VIAIR compressor and a 2.5 gallon tank provide large air volume with fast flow to air up your tires and perform various other pneumatic duties. Comes with an ON/OFF dash panel gauge, all electrical connectors and an accessory airline.
FEATURES
– 325C VIAIR Air Compressor w/Thermal Overload Protector
– 2.5 Gallon VIAIR Air Tank
– Dash Panel Gauge with ON/OFF Switch
– Pressure Switch with Relay (110 PSI on, 145 PSI off)
– Reducer: 1/8" (F) to 1/4" (M)
– 1/4" Quick Connect Coupler (M)
– 1/4" 175 PSI Safety Valve
– 1/4" Drain Cock
– 20ft. 12-Gauge Wire with Inline Fuse Holder
– 4" Strip of Continuous Grommet Material
– Accessory Airline
– Electrical Connections

All Fittings are NPT rated unless otherwise noted.
Wiring harness NOT included.
 SPECIFICATIONS
– 12-Volt
– Permanent Magnetic Motor
– Duty Cycle: 33% @ 100 PSI
– Max. Working Pressure: 150 PSI
– Max. Amp Draw: 21 Amps
– Ingress Protection Rating: IP67

FILL RATES
2.5

Gallon Tank

Fill Rate

0 to 200 PSI
3 min. 13 sec. (± 10 sec.)
165 to 200 PSI
53 sec. (± 05 sec.)

37" x 12.5"

Fill Rate

0 to 30 PSI
5 min. 00 sec. (± 15 sec.)
15 to 30 PSI
2 min. 30 sec. (± 10 sec.)
40" x 15.5"
Fill Rate
0 to 30 PSI
5 min. 25 sec. (± 15 sec.)
15 to 30 PSI
2 min. 40 sec. (± 10 sec.)