---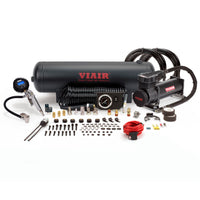 CONTINUOUS DUTY ONBOARD AIR SYSTEM (PN 20002  )

DESCRIPTION
The tough task undertaker. This OBA can inflate practically any tire and quickly. It can handle air tools, manage air lockers, and air horns, you name it. That's possible thanks to VIAIR's 485C compressor's ability to operate at a whopping 200psi for a full duty cycle. Comes with all components needed to install a working system, digital gauge inflation gun, a 30ft coil hose with quick connects and more.
FEATURES
– 485C Stealth Black VIAIR Compressor w/ Thermal Overload Protector
– 2.5 Gallon VIAIR Air Tank
– Digital Tire Inflation Gun with 180 PSI Gauge
– 30ft. Inside Braided Black Coil Hose with Quick Connects
– 1/4" NPT Quick Connect Stud (F)
– 1/4" NPT Quick Connect Coupler (F)
– Dash Panel Gauge with ON/OFF Switch
– Sealed Pressure Switch (165 PSI on, 200 PSI off)
– Reducer 1/8" NPT (F) to 1/4" NPT (M)
– Reducer 3/8" NPT (F) to 1/4" NPT (M)
– 1/4" NPT 250 PSI Safety Valve
– 1/4" NPT Drain Cock
– (3) 1/4" NPT Compression Fittings
– 4" Strip of Grommet Material
– 20ft. 12-Gauge Wire with Inline Fuse Holder
– Electrical Connections
– Accessory Airline


All Fittings are NPT rated unless otherwise noted.

 SPECIFICATIONS
– 12-Volt
– Permanent Magnetic Motor
– Duty Cycle: 100% @ 200 PSI
– Max. Working Pressure: 200 PSI
– Max. Amp Draw: 23 Amps
– Max. Air Tank Size: 5.0 Gallon
– Ingress Protection Rating: IP67

FILL RATES
| 35" x 12.5 | Fill Rate |
| --- | --- |
| 0 to 30 PSI | 4 min. 17 sec. (± 10 sec.) |
| 15 to 30 PSI | 1 min. 27 sec. (± 05 sec.) |
| 37" x 12.5" | Fill Rate |
| 0 to 30 PSI | 5 min. 13 sec. (± 15 sec.) |
| 15 to 30 PSI | 1 min. 28 sec. (± 05 sec.) |