---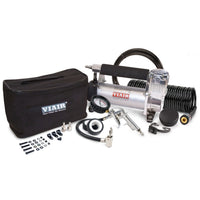 450H HARD-MOUNT AUTOMATIC COMPRESSOR (PN 45041  )

150 PSI / 1.80 CFM



DESCRIPTION
Newest addition to VIAIR's H family, this compressor is meant for inflating tires up to 37'' and will handle class A RV tires as well. It can operate for up to an hour before needing rest, giving you plenty of service time to finish your task. Features an IP54-rated ON/OFF onboard switch, 30ft coil air hose, 160psi gas station-style inflation gun and a carry bag for the accessories.
FEATURES
– Gas Station-Style Tire Inflation Gun with 160 PSI Gauge
– Thermal Overload Protector
– Automatic Shut-Off Function
– Upgraded Vibration Isolators
– 30 ft. Braided inside Black Coil Hose
– 40-amp Inline Fuse Holder
– Storage Bag for Hose and Tire Inflation Gun
– Air Line for Remote Mount Air Filter
– Upgraded Vibration Isolators
– Mounting Hardware
– (2) Replacement Air Filter Elements
– Installation Instructions


 SPECIFICATIONS
– 12-Volt
– Permanent Magnetic Motor
– Duty Cycle: 100% @ 100 PSI
– Max. Working Pressure: 150 PSI
– Max. Amp Draw: 23 Amps
– Ingress Protection Rating: IP54
– Dimensions: 12.4″L x 5.8″W x 7.5″H
– Net Weight: 13.05 lbs.
– Power Cord Length: 8 ft.
– Air Hose Length: 30 ft.
FILL RATES
| 31" x 10.5" | Fill Rate |
| --- | --- |
| 0 to 30 PSI | 4 min. 05 sec. (±10 sec.) |
| 15 to 30 PSI | 2 min. 10 sec. (±05 sec.) |
| 33" x 12.5" | Fill Rate |
| 0 to 30 PSI | 5 min. 30 sec. (±15 sec.) |
| 15 to 30 PSI | 2 min. 50 sec. (±05 sec.) |
| 35" x 12.5" | Fill Rate |
| 0 to 30 PSI | 6 min. 55 sec. (± 15 sec.) |
| 15 to 30 PSI | 3 min. 30 sec. (± 10 sec.) |
| 37" x 12.5" | Fill Rate |
| 0 to 30 PSI | 7 min. 56 sec. (± 15 sec.) |
| 15 to 30 PSI | 4 min. 09 sec. (± 10 sec.) |