---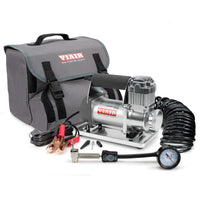 300P-RVS (PN 30034  )

150 PSI / 2.30 CFM - For RV Towables



DESCRIPTION
Designed for the high-load RV Towables and smaller RVs, this mighty machine can top off most trailer tires from 80 to 90PSI in just 44 seconds. Comes with a 30ft coil hose, an inflator/deflator with an inline 150PSI gauge, a 3 piece inflation kit for various recreational equipment and a convenient heavy duty carry bag.
FEATURES
– Thermal Overload Protector
– 5-in-1 Inflator/Deflator Air Hose with Inline 150 PSI Gauge
– Aluminum Sand Tray with Vibration Isolators
– Deluxe Dual Compartment Carry Bag
– 40-amp Inline Fuse Holder
– Dual Battery Clamps
– 3 pc. Inflation Tips Kit

 SPECIFICATIONS
– 12-Volt
– Permanent Magnetic Motor
– Duty Cycle: 33% @ 100 PSI
– Max. Working Pressure: 150 PSI
– Max. Amp Draw: 30 Amps
– Max. Tire Size: 245/70R19.5
– Ingress Protection Rating: IP54
– Dimensions: 9″L x 4.9″W x 7.5″H
– Net Weight: 8.70 lbs.
– Power Cord Length: 8 ft.
– Air Hose Length: 30 ft.
FILL RATES
| 33" RV TIRE (245/70R19.5) | Fill Rate |
| --- | --- |
| 50 to 60 PSI | 55 sec. (± 03 sec.) |
| 60 to 80 PSI | 1 min. 41 sec. (± 05 sec.) |
| 80 to 90 PSI | 44 sec. (± 03 sec.) |
| 90 to 110 PSI | 1 min. 38 sec. (± 05 sec.) |