---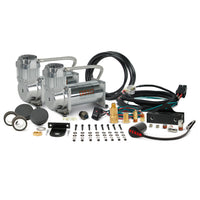 Dual 400C High Performance System - CHROME


150 PSI / 5.12 CFM



DESCRIPTION
VIAIR Mounted Systems (VMS) are high-quality onboard compressed air systems designed to provide high CFM flow and fast fill time with unsurpassed durability. This system comes with everything that is necessary to install a fully functioning onboard air system. VMS can be used for tire inflation, air tools, air horns, air lockers, airbags, and inflatables of all kinds.
FEATURES
– (2) 400C (Chrome) Air Compressors  w/Thermal Overload Protectors.
– (2) Air Filter Assemblies with spare Air Filter Elements
– (1) Complete dual wiring harness with 80A fuse holder
– (1) 8 Port Billet Manifold
– (1) Pro Series Air Source Relocation kit, 3/8"
– (1) VIAIR Rocker Switch
– Air Locker compatible
– Designed to be air tank ready (Air tank optional)

 SPECIFICATIONS
– 12-Volt
– Permanent Magnetic Motor
– Duty Cycle: 100% @ 40 PSI (33% @ 100 PSI)
– Max. Working Pressure: 150 PSI
– Combined Max. Amp Draw: 60 Amps
– Max. Air Tank Size: 10.0 Gallon
– Ingress Protection Rating: IP67
– Dimensions: 9″L x 4″W x 6.75″H (Each Unit)
– Net Weight: 25 lbs.
– Max Ambient Temp: +158°F
– Min Ambient Temp: -40°F


TIRE FILL RATES
| 35" x 12.5" | Fill Rate |
| --- | --- |
| 0 to 40 PSI | 4 min. 15 sec. (± 15 sec.) |
| 10 to 40 PSI | 3 min. 15 sec. (± 10 sec.) |
| 37" x 12.5" | Fill Rate |
| 0 to 40 PSI | 4 min. 55 sec. (± 15 sec.) |
| 10 to 40 PSI | 3 min. 45 sec. (± 10 sec.) |